At our place are: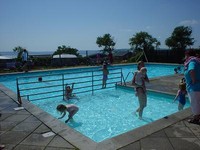 Swimming & bouncer free for site visitors.
Great barbecue available to site visitors.
Campfire with table / benches at the beach.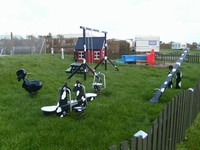 "Cow" playground for younger children
There are 2 playgrounds - one for smaller children at the pool area which has been recently renovated to season the 2007th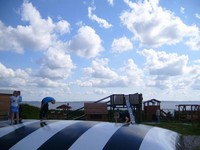 Playground for older children
For the 2007 season we have created a new playground with obstacle course and got a new bouncer!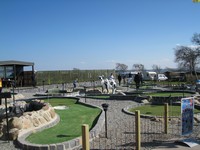 Fun & play golf
Fun & play golf should not be compared with standard mini-golf. Fun & play golf is the ultimate in miniature golf since the strips are different. blah. with slopes, pipes & water obstacle. A good play & fun golf course has a comfortable mix of challenges and lightness, so that it appeals to both children, adults & golf entutiaster, there are 2 ways to target a child and an adult .. The holes are interesting and challenging brought by rivers and wells, surrounded by a unique environment. The holes can be played in 2 ways, each with its severity, so that children & adults, experienced and beginners can play against each other on equal terms. The tracks are built with artificial grass which gives a lifelike experience of the golf ball's speed ..